For California Residents:
Answers to Questions about California Proposition 65
If you live in California, you may have noticed a sticker or warning that looks like this.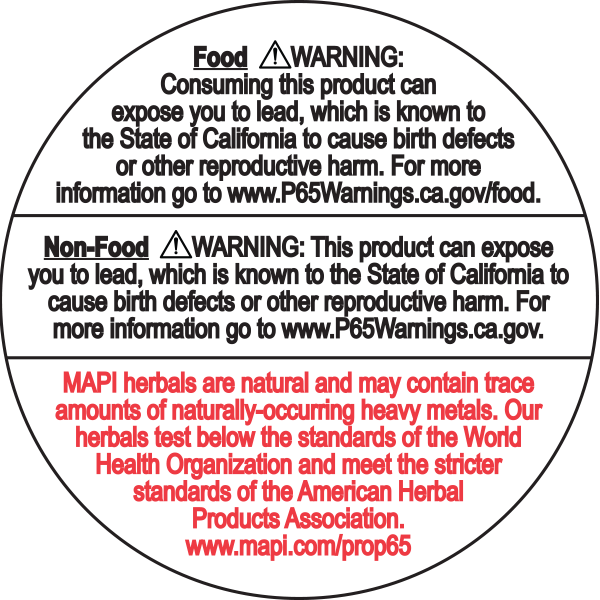 While all MAPI products test for lead levels under the WHO (World Health Organization)-approved level, products shipped to the state of California are required to bear this warning under Proposition 65. This page explains what this warning means and how you can determine if the product is safe.
First of all, what is California Proposition 65?
Proposition 65 is an initiative passed in California to reduce exposure to toxic chemicals. That initiative became the Safe Drinking Water and Toxic Enforcement Act of 1986, which is commonly called Proposition 65.
What are the requirements of Proposition 65?
As part of the requirements for this act, each year the state of California updates a list of chemicals, now numbering more than 775, that are known to cause cancer or birth defects.
The list contains a wide range of chemicals and materials, including many metals and plastics, dyes, solvents, pesticides, drugs, food additives, and byproducts of certain processes. These chemicals may be naturally occurring in fruits and vegetables, or may be synthetic. Some of them are found in common household products; others are specialty chemicals used in common industrial applications.
Under Proposition 65, businesses are required to notify California citizens if any of these chemicals are present in their products. California's regulations encourage businesses to use the Safe Harbor Warning shown above. The purpose is to give citizens of California the information they need to investigate and make informed decisions to protect themselves from exposure to toxins. For more information and the list of chemicals published by the state of California, visit: http://oehha.ca.gov/prop65/prop65_list/Newlist.html.
So if there's a warning on a MAPI product, does this mean it's dangerous?
No. For one thing, low levels of lead, cadmium, mercury and arsenic occur naturally in fruits, vegetables and herbs. In the case of lead, the plants are exposed to trace levels of lead particulates from air and water while they are growing.
This means that products made from whole herbs, such as herbal food supplements, could also contain trace amounts of lead or other chemicals even if no other ingredients are added.
The requirements of Proposition 65 are extremely tough - requiring a warning for products that contain cadmium above 4.1 micrograms, lead above 0.5 micrograms and mercury above 3 micrograms per day.1 A microgram is one-millionth of a gram. A single drop of water contains about 50,000 micrograms.
In fact, the requirements of Proposition 65 are so strict that if they were applied to whole, unprocessed fruits and vegetables, the following fruits and vegetables would have to contain a warning sticker: yams, turnips, apples, tomatoes, artichokes, carrots, cucumbers, green beans, lettuce, spinach, potatoes, corn and many, many more fruits and vegetables.2
In order to prevent these fruits and vegetables from being labeled with Proposition 65 warning signs, California's Proposition 65 enforcement agency exempted them from this proposition.
The challenge for all of us at MAPI is to offer products made of whole herbs with lead levels under 0.5 micrograms per day, when all agricultural products contain trace amounts of naturally-occurring levels of lead because they are exposed to lead particulates in the air and in water.3
Then how do I know that a MAPI product with the Proposition Warning sticker is safe or not?
For one thing, all of the MAPI products test below the Proposition 65 levels except in the case of lead. Even in the case of lead, MAPI's products test well below the World Health Organization's provisional tolerable weekly intake level (PTWI) of 25 micrograms of lead per kilogram of body weight, which would be a daily tolerance level of 250 micrograms per day for an adult weighing 70 kg or 154 lbs.4 They also test below the guidelines of all other regulating agencies, such as the American National Standards Institute (ANSI), which specifies that dietary supplements should not contain more than 20 micrograms per day of lead.5 The only standards they cannot meet at present is the Proposition 65 guidelines, and as pointed out, even the whole, organic herbs cannot meet those standards because the herbs themselves are exposed to trace amounts of lead particulates from the air and water as they are growing.
What is MAPI doing to ensure product safety?
First of all, MAPI is including the Safe Harbor Warning on any products that are shipped to California that contain more that 0.5 micrograms of lead per day, so we are in compliance with the Proposition 65 requirements.
We are also working with our herbal suppliers to locate herbs with the lowest possible levels of lead and other heavy metals as determined by scientific testing.
As a pioneer in the global resurgence of ayurveda, Maharishi Ayurveda Products International has, from its inception, followed several guiding principles, including rigorous testing. Every batch of finished product undergoes a battery of tests at our state-of-the-art processing facility in India. When the product arrives in the United States, it is once again subjected to a series of tests (with the exception of MA and Veda herbs) by a premier independent analytical laboratory before it is bottled for sale. These tests include examination for overall purity, heavy metals (lead, arsenic, cadmium and mercury), residual pesticides and biological contamination, which have ensured that our products are safe and do not contain harmful levels of these materials.
To guarantee quality control, we are also certified by third-party, international regulating agencies.
What agencies certify MAPI products?
We test our products throughout their processing to ensure there are no heavy metals or contaminants of any kind.
Our state-of-the-art manufacturing facilities are certified in two ways:
ISO-9001 Certification - The ISO (International Organization for Standardization) is the international standard for assessing management, testing and manufacturing, applying the same rigorous criteria that it uses to assess nuclear power plant safety. Maharishi Ayurveda Products International meets the ISO's stringent requirements for quality in the design, production, and export of herbal products.
Good Manufacturing Practices (GMP & cGMP) Certification - Conducted by an independent panel of experts, certifies that Maharishi Ayurveda Products International products are "fault-free, safe and have consistent quality."



In addition, Maharishi Ayurveda Products International follows its own strict standards to monitor ingredients, processing and finished products. First each batch of herbs is tested, and then each batch of finished product undergoes a battery of tests at our state-of-the-art processing facility in Noida, India. When the product arrives in the United States, it is again subjected to a series of tests by an independent U.S. laboratory before it is bottled for sale.
Test includes: Microbiological contamination (e-coli, coliforms, staph and salmonella), residual pesticides, and insecticides.
At Maharishi Ayurveda Products International, our policy has always been to reject any ingredient or finished herbal product that does not meet our rigorous standards for safety. Our commitment stays the same — to follow the traditional methods of ayurveda while employing the highest standards of quality control.
It is our joy to continue to offer products that are without exception safe, effective, and reliable.
Is there research on the safety and effectiveness of MAPI products?
Maharishi Ayurveda Products International employs the ancient and time-tested techniques of ayurveda in their purity while at the same time using the rigor of modern science to validate the safety, cleanliness, and effectiveness of every product. Scientific research on herbal formulas produced by Maharishi Ayurveda Products International includes 76 clinical trials by fifteen leading universities and research institutions.
What are some of the ayurvedic principles that are used in creating MAPI products?
Here are just a few of the ways we adhere to the traditional formulas and processing methods of the ancient ayurvedic texts.
Every formula includes the whole herb, not just the isolated ingredient.
This is a major difference between a traditional, authentic ayurveda formula and modern medicine — our herbs use the whole plant, a natural way to avoid negative side effects and ensure maximum effectiveness.
No high temperatures. Herbal remedies are never exposed to high temperatures that can destroy their healing intelligence.
Wild-crafted herbs. Wild herbs are 100 times more potent than cultivated herbs. By gathering most of our herbs from pristine Himalayan areas, our herbal products are free of harmful chemicals and pollution.
Traditional harvesting techniques. By harvesting herbs at their peak growth, maximum nutrition and potency is ensured. We discard herbs that don't meet our high standards of purity and potency, using the High Performance Liquid Chromatography to chemically identify which ones are potent.
Purity matters. We discard herbs that don't meet our high standards. Nothing matters to us more than the purity of our products.
No artificial colors, flavors or excipients. We use only natural binders and vegetarian capsules and coatings. No animal products of any kind are used in the formulas or during the processing.
---
Our commitment to product purity
Maharishi Ayurveda Products International (MAPI) is proud to have been the pioneer in independent testing of its imported ayurvedic herbal food supplements. MAPI tests samples of its imported products at an accredited analytical laboratory that meets ISO 17025:1999 standards. This includes testing for the presence of lead using spectrophotometry.
MAPI's standard procedure is to test its products twice: once in India before shipment and once they've arrived in the US. The tests in India include examination for purity, heavy metals (lead, arsenic, cadmium and mercury), residual pesticides and biological contamination. The manufacturing facility in India has earned the following international certifications: ISO 9001 and GMP (Good Manufacturing Practices). Stringent testing is performed at an independent testing facility that employs state-of-the-art methods and technology to ensure our products are pure.
MAPI will continue to employ the most rigorous testing procedures, and will continue to upgrade standards as necessary to maintain leadership in providing the purest ayurvedic herbal food supplements to support good health and physiological balance through the time-tested herbal formulas maintained throughout thousands of years of practice.